'Stattobets Dave' Football (up until 30th Nov 2019)
Previews from Sunday 1st December
Posted on 30 Nov 2019 22:43 in 'Stattobets Dave' Football (up until 30th Nov 2019)
Well it's true enough to say Saturday was far from a classic, but we go again on Sunday, and have already got a decent portfolio, with Northampton, Coventry and Parma already previewed. I'm confident that although the Coventry price has only shortened a little so far, we'll see a chunkier move there once the Ipswich side is names around lunchtime.
I've got a few selections on the short-list for Sunday, having trawled Bundesliga, Bundesliga 2, Portugal, Super Liga, Serie B and Segunda, so I expect to publish at least two or three picks in the morning.
These will be housed going forwards in the Football section of Betting Emporium – found here:
https://www.bettingemporium.com/tips/index/75
To make sure you get the email updates please go here and update your 'My Subscriptions' and tick the box:
[x] UK and Euro Football by 'Stattobets Dave' (inc Brodders for Dec 2019)
Hope to see you over there!
Dave
Black Friday Sale 50% Discount - Statto/ Brodders Soccer Betting
Posted on 30 Nov 2019 13:30 in 'Stattobets Dave' Football (up until 30th Nov 2019)
From 1st December Stattobets Dave write ups join Brodders in the paid £50pcm subscription section. We have a great Black Friday offer for you though if you wish to join, details below. Sign up here to make sure that you get all the Stattobets write ups and bets going forward and also the Brodders ones for free during December in the same section from tomorrow December 1st.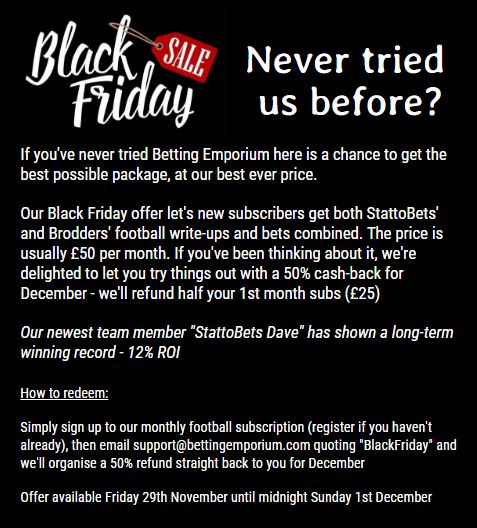 Serie A - Parma v AC Milan
Posted on 30 Nov 2019 12:33 in 'Stattobets Dave' Football (up until 30th Nov 2019)
It's rapidly becoming a season to forget for AC Milan fans, with their side languishing in 12th place after 13 matches, with just 2 home wins from seven attempts at the San Siro and closer to the relegation zone than a Europa Qualification spot. By their standards things are very bad indeed and the arrival of Stefano Poli has done little to improve things, with the former Fiorentina and Lazio man winning just one of his opening six fixtures in the hot-seat.
Goals have been a major problem, with the side striking more than once in just two of their 13 matches this season - with those coming against Genoa and Lecce. That means they are among the lowest scorers in the division, netting just 12 and conceding 17 times. They've also recorded the worst displinary record in the division which is never a great sign about a team. Shot data suggests they are going to end the season somewhere around mid-table recording a 52% shot-ratio.
They travel to Parma this week, who might not be recording amazing shot-data themselves (46% ratio over the season), although it's improved to 52% over their last six-matches. Results have been better though - with their last 10 matches returning 4-3-3 and four wins in their last five home matches. Draws at Bologna and Fiorentina recently were respectable enough so they warrant plenty of attention this weekend at 13/5 and 27/10 quotes.
Neither side are reporting any significant injury problems to their regular starters.
12pts Parma to beat AC Milan at 11/4 (Bet365, Betfair Exchange 3.8*)
National League - 30th November - Part 2
Posted on 30 Nov 2019 11:55 in 'Stattobets Dave' Football (up until 30th Nov 2019)
Torquay United have lost their last four matches now - including defeats to Chorley and Sutton in the relegation zone, and Maidstone in the FA Cup from the National League South. It's not altogether surprising when you look at the treatment table, which now has Armani Little (13 apps/3 goals), Opi Edwards (7/2) and Liam Davis (16/2) among it's occupants.
They have been joined by top scorer James Reid (21/14), Asa Hall (8/1), Connor Lemonheigh-Evans (9/1) and Frank Vincent (19/0) this week, athough there is a chance the latter three could be involved in some capacity this weekend, while Jake Andrews and Jean-Yves Koue Niate are both suspended for this one.
They face Stockport - a side I'm not a huge fan of generally, but they have been winning the odd game lately, including victories at Dover and Barnet through October and November, and beating Hartlepool and Dagenham at their own place. It's a long old trip down to Torquay,but the injury situation gives them a great opportunity to get an unbudgetted three points in this one, and avail their 4-0 defeat to the Gulls earlier in the season.
We'll forgive them the 4-1 defeat in midweek, and chance Stockport again at odds of 16/5
10pts Stockport to beat Torquay at 16/5 (Bet365, Betfred)
Bundesliga - Hertha v Dortmund - 2:30pm
Posted on 30 Nov 2019 09:30 in 'Stattobets Dave' Football (up until 30th Nov 2019)
Hertha Berlin v Dortmind 2:30pm
The German Bundesliga is all about goals. That's what happens over ther, and two sides who have really lived the ethos this season have been Dortmund and Hertha Berlin. After 20 games this season, Dortmund matches have seen a total of 64 goals so far (3.2 per game), while in the Bundesliga alone their 12 matches have produced a staggering 44 goals - with nine of those passing the Over 3.5 Goals line. It's been entertaining to say the least.
Hertha have been rather lass busy of course with no European commitments, playing 14 times so far this campaign.Those games have produced 54 goals (an average of 3.86 goals) and eight have gone over 3.5 goals. Remove German Cup games, and you are still left with 12 matches producing 42 goals (3.5 goals per game) and six going over 3.5 goals.
If we assume this game should reasonably be expecting something in the region of 3.35 goals, then over 3.5 would calculate as around a 5/4 chance - an outcome you can get 13/8 about with bet365 or 6/4 with a host of layers. Bundesliga matches have produced an average of 3.26 goals over the entire league this season, so it's far from an unreasonable assumption. Add in the fact that Hertha come into this without first choice keeper Rune Jarstein and under new management, while Dortmund have conceded more away goals than any other top-half side, conceded three times to SC Paderborn last weekend, and have now leaked 12 goals in their last four matches (albeit matches against Bayern Munich, Inter Milan and Barelona) and you have a recipe for an open match.
12pts Over 3.5 Goals at 6/4 (Will Hill, UniBet, Betfair Exchange*) or 13/8 even better with Bet365 while it lasts